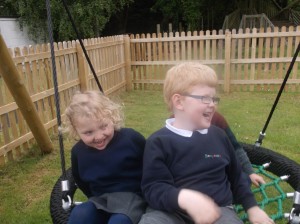 In the Early Years, every child matters.
We aim to ensure our pupils are happy, healthy and safe. We provide them with opportunities to make a contribution to their learning, the class, school and the local community.
We recognise that the experiences and learning that takes place in our Early Years classes forms the foundation of a child's learning. We aim for learning to be enjoyable and to celebrate all successes and achievements. Skills learnt at this early age should be skills used throughout a pupil's school life and beyond.
Our Early Years classes cater for pupils aged from four to seven. The 3 Early Years classes – Starfish, Seahorses and Penguins – are located within a self contained base. Every area of the department is utilized to provide opportunities to promote learning. Each of these classes has free access to the Sensory Room, the Therapy room and a quiet learning room. The base also benefits from open access to a safe and secure outdoor learning environment with a variety of play equipment including bikes, trikes, water and sand play. We aim at providing enjoyable activities for all the pupils in Early Years so that outside play is fun and not a time to be endured!
The base also has its own toilets and changing areas. Because many of our children require support with their personal care, all staff have attended Safe Guarding training and are aware of our intimate care policy.
In general, our mornings focus on Literacy, Numeracy, IEP targets and speech and language programmes. The Seahorse and Penguin classes spilt into groups for language groups allowing for more ability grouping, which is especially beneficial for those pupils with 'spikey profiles'.
In the afternoons we have sessions, which are timetabled 'Let's Explore'. These sessions link to the creative curriculum and our topic. During these times, our children have access to the minibus and food technology areas in addition to activities provided within the base. Do take a look at one of our topics – Dinosaur topic PowerPoint (link – slow to open) .
We aim to encourage independence in our learners and appreciate that experiences and achievements in our first classes form a foundation for future learning.
On Friday afternoons we promote independent learning through our "Children Choose" activities. This time enables our learners to follow their own interests and indicate to staff their preferences. The whole department joins for music and assembly where we celebrate successes and share what each class has been doing throughout the week.
We work closely with parents to ensure a smooth transition from home to school. Our youngest learners initially attend Beaucroft on a part time basis. We visit new intake children both at home and/or at pre-school or school before they start at Beaucroft. Parents receive a "Guide to Your Child Starting School" pack and a transition book and we offer weekly transition sessions during the summer term.
Close contact is kept with parents through a home-school link book, regular parent's evenings and coffee mornings.
Parents also receive information offering advice on ways to support their child's learning at home. Many of our parents choose to attend a parent support group that is held in school and our family SEAL workshops.
We work closely with a number of outside agencies to ensure that our provision caters for each learner's individual needs. We take advice from Portage, Speech and Language Therapy, Occupational Therapy, Physiotherapy, the school doctor as well as each pupil's Educational Psychologist and Social Worker.
Planning is based on the needs of the pupils and is generally topic based. We use the 'Early Years Goals, Development Matters, Characteristics of Learning as well as KS1 curriculum as guides. We make reference to the developmental steps when considering the appropriateness of activities for individual learners.
Each pupil has Individual Intervention Plans and Targets which are regularly reviewed. Pupils also have speech and language targets that are worked on throughout the week both with Early Years staff and the speech therapists. Where required we facilitate and carry out individual Physio and OT programmes.
Reception children are assessed using the Foundation Stage Pupil Profile as well as our own entry assessments. All pupil progress is recorded using the school assessment and monitoring system and Year 2 pupils take SATs tests and tasks (including the Phonics test) if appropriate.
Our timetable provides opportunities for development in the areas of PSED, Communication, Language and Literacy, Mathematics, Understanding the World, Physical and Expressive Arts and Design.
We use all the resources available including our purpose built bikes and trikes, the adventure playground, swimming pool and minibus. Pupils in Penguins and Seahorses go horse riding weekly with a local RDA group which forms part of our physical development curriculum. Our RDA lessons provide opportunities for therapy, achievement and enjoyment, improving health, wellbeing and self-confidence, and benefiting mobility and co-ordination. Pupils across the base may also participate in trampolining sessions at a local sports center.
We have also made links with local community groups including local mainstream schools. This enables us to link up for themed days and special trips out.
H.Harrison