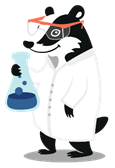 Science at Beaucroft aims to offer a student-centred, structured approach to teaching and learning which enables the student to gain knowledge of the world together with some understanding of life and physical processes.
Beaucroft Science Policies
Students will be taught the necessary skills to understand how science works at an appropriate level to their understanding; to develop knowledge and understanding of Organisms, and the environment, Materials, properties and the Earth and Energy, forces, and space.
Progression of scientific knowledge is planned across the three strains of science, biology, chemistry, physics and as laid out in the Beaucroft Science Road Maps and Beaucroft Science Progression Document.
Beaucroft Science Road Maps
Science Curriculum Types
Beaucroft Science Progression Document
Beaucroft Science curriculum follows a differentiated National Curriculum. The key skills within Working Scientifically are a crucial part of the planning process and the use of Plan, Do, Record and Review are the fundamental building blocks of each lesson.
The Science curriculum focuses on scientific enquiry which helps develop a host of skills and competencies, knowledge and understanding, bringing enormous benefits as they grow. Scientific enquiry increases children's capacity to:
Problem solve and answer questions.
Work with independence. Thinking and reasoning is nurtured alongside a host of qualities, including resilience, determination, and confidence.
Communicate effectively.
Useful websites
Demonstrations and Simulations
Games
Teaching Resources