Ollie has been practising on his racing mower and his sunflowers are now taller than him!
Oscar has been busy baking at home 🙂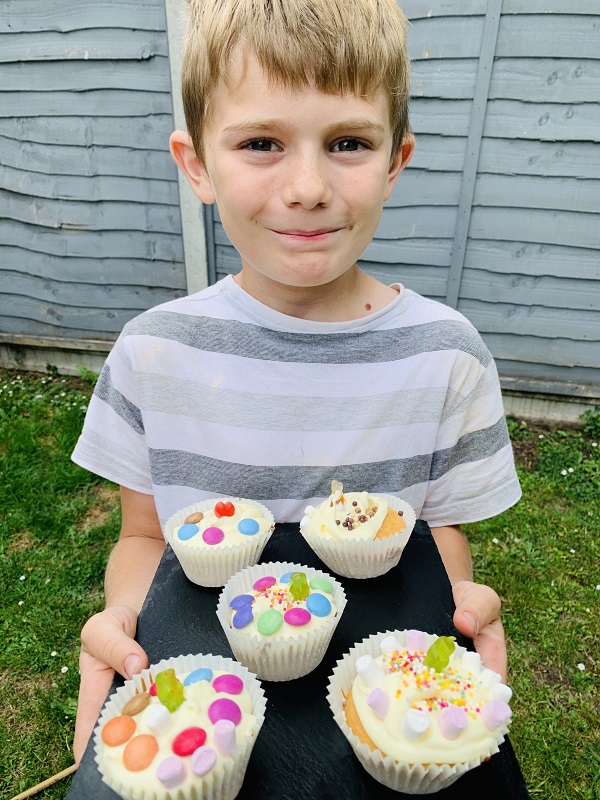 Some of the pupils and staff currently in school had an impromptu socially distanced water fight on the field!!
Chiara and her mum walked to the blueberry farm for coffee and homemade cake today. She ate the blueberries hidden in the brownies 🙂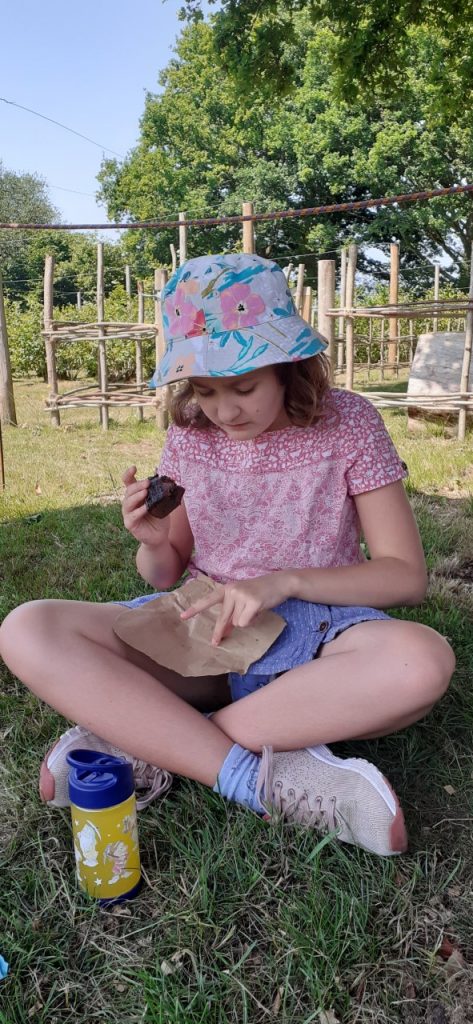 Laurence has been practising his photography skills!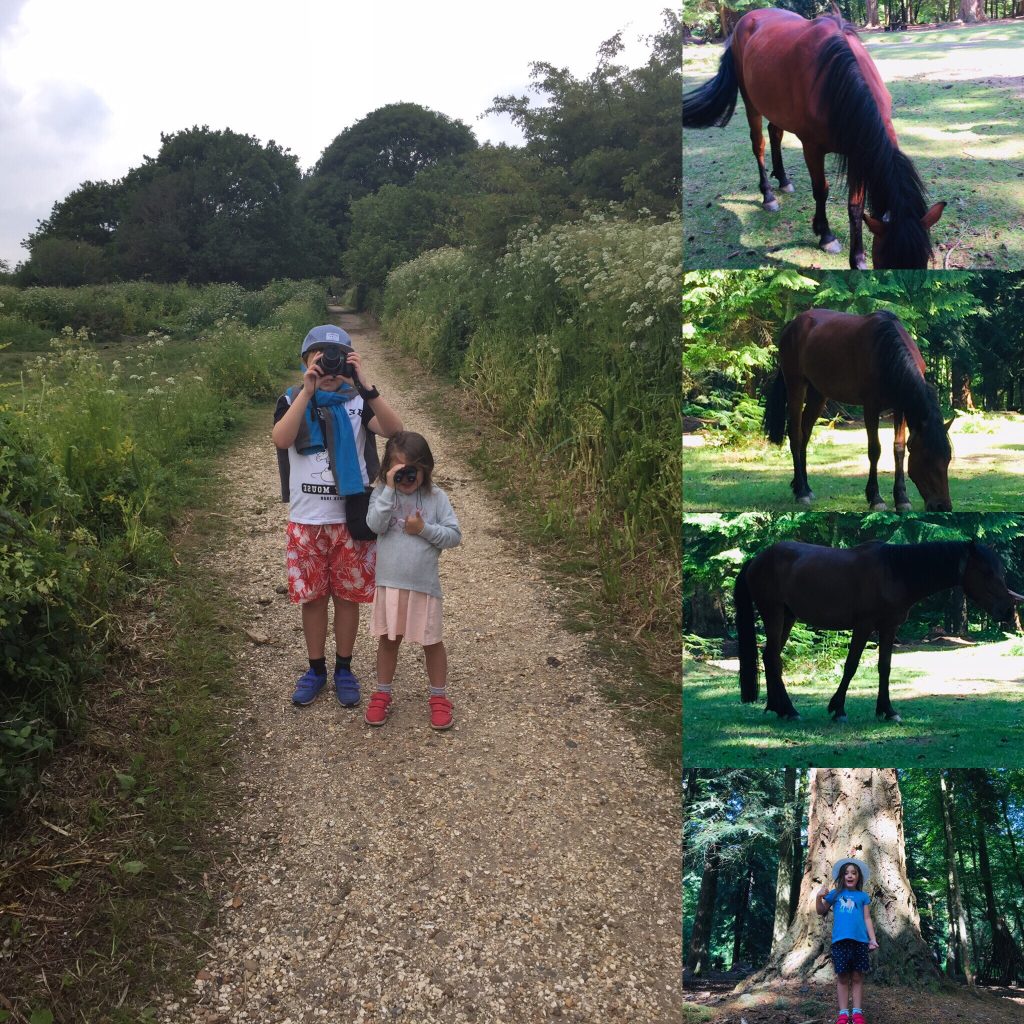 Skye has an enormous Winnie the Pooh!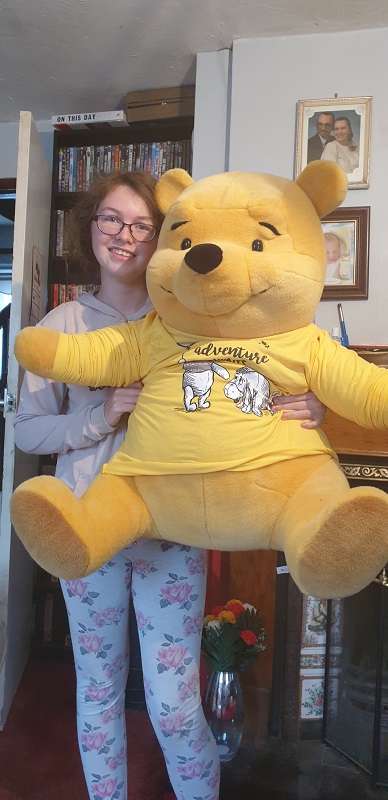 Chiara joined in with baking for the first time 🙂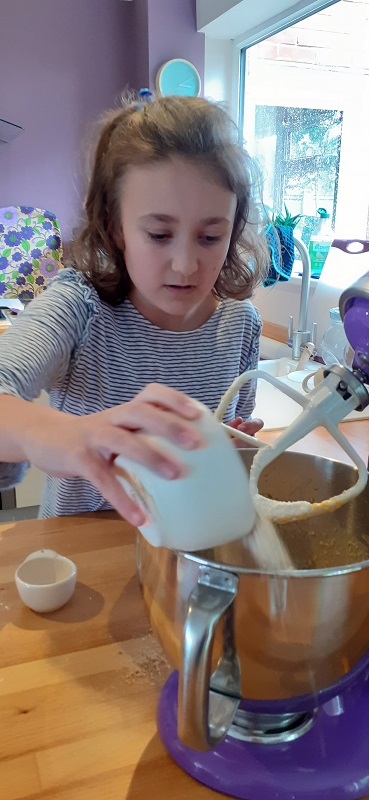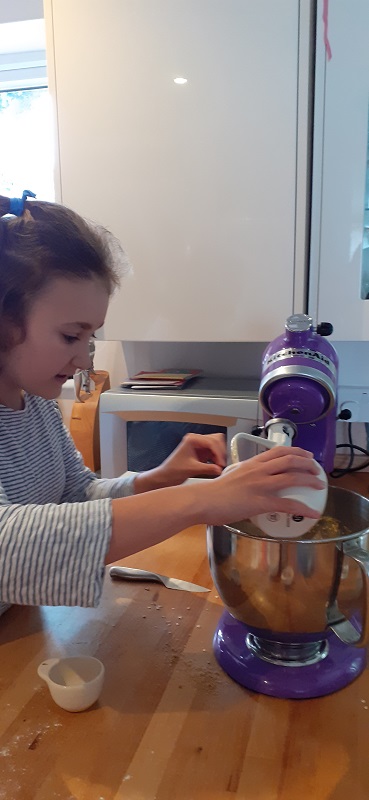 Skye has created a beautiful fairy garden
Oliver has been busy helping his dad build a deck in the garden and a herb garden out of old pallet!
Emily has been keeping busy at home!!
Tyler and his new Chickens!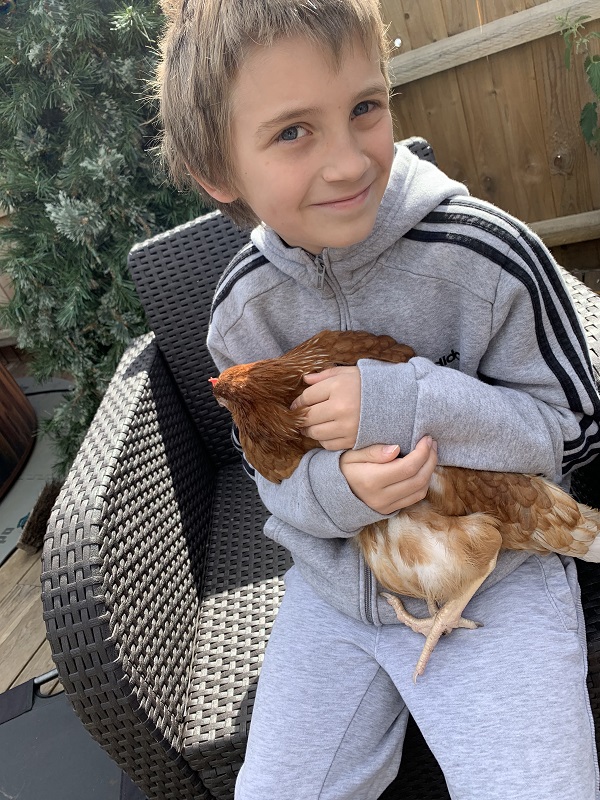 Matilda has discovered a great location for home schooling! She has produced this fab piece of writing for her topic work 🙂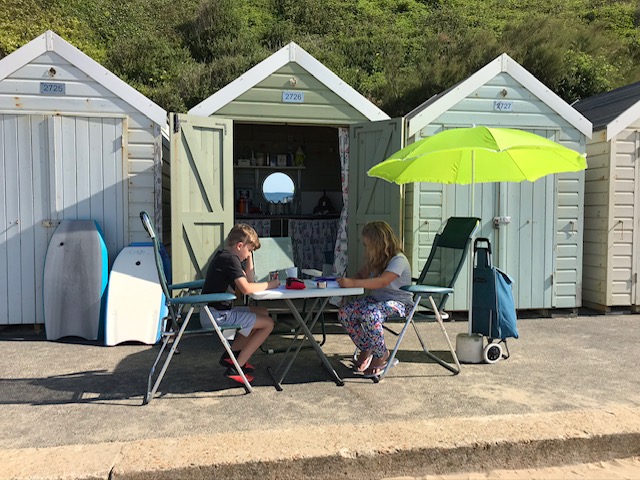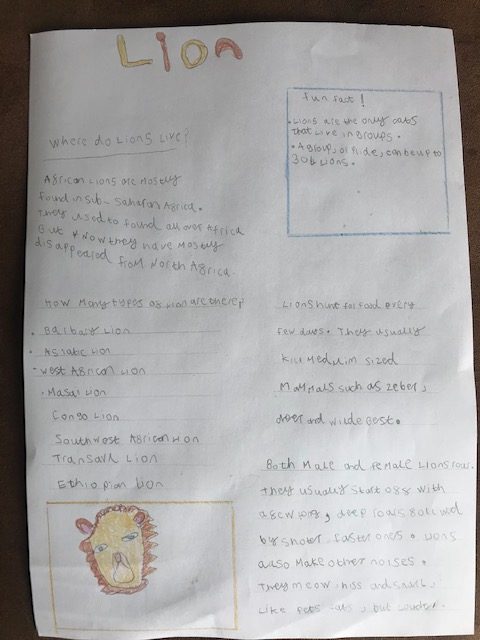 Haydn has been out and about walking Charlie 🙂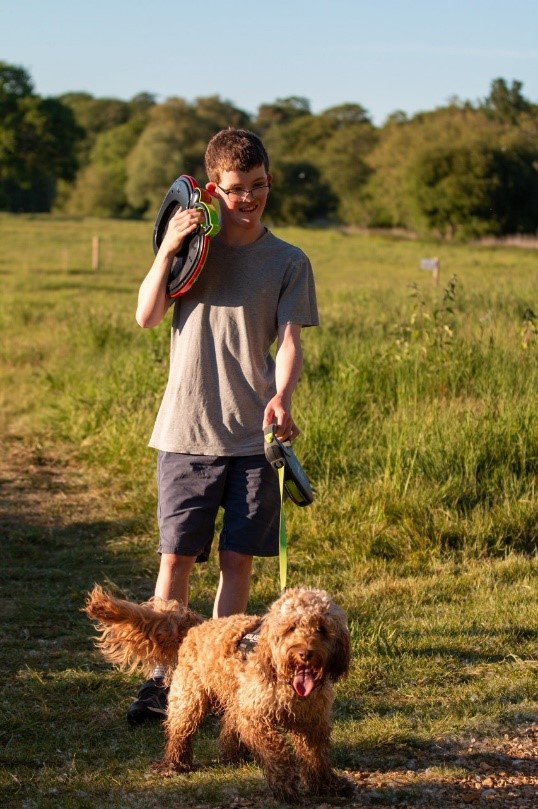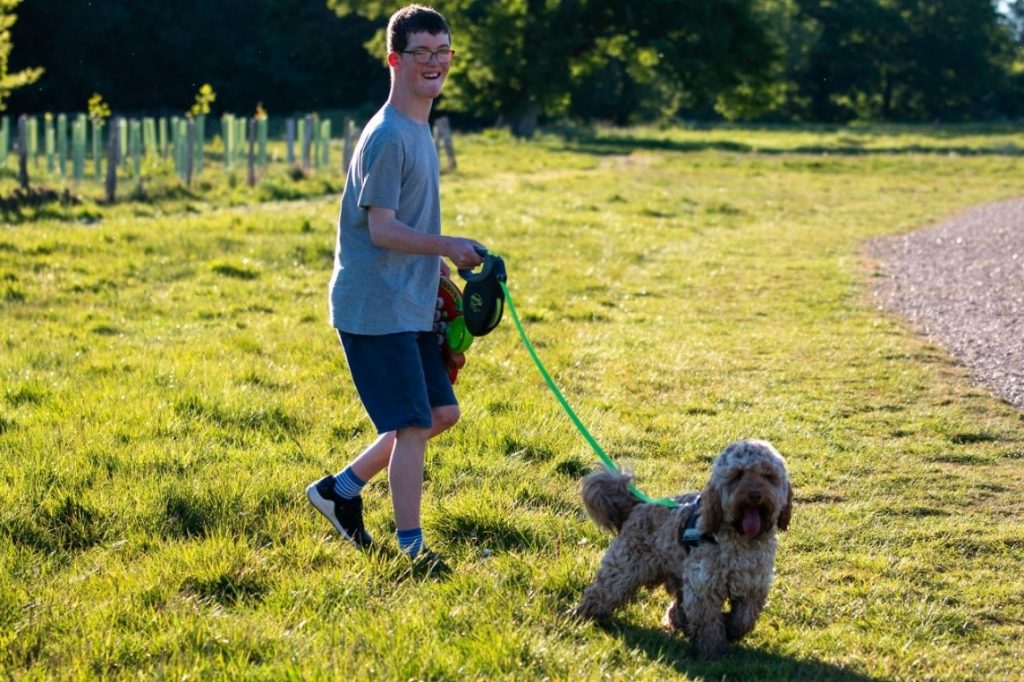 Darryll has been modelling his mum's uniform!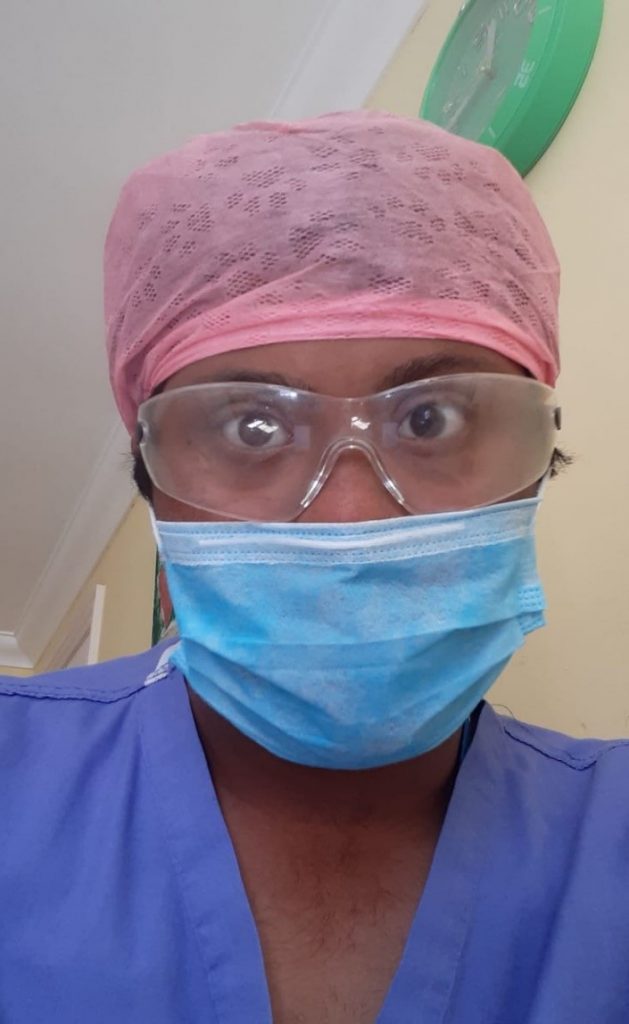 Lyla made and decorated some cakes earlier this week. Today she has made a cake box for one cake, putting the ingredients, price, barcode and name on the box. Great job Lyla!
John has created this great video diary to show his friends what he has been up to over half term 🙂
Covid Cobra Artwork
Leon and Jamie have started a Covid Cobra, and have place it outside school, they'd like to see how long it can get!
The winner of the colouring competition for the Post 16 school is Lauren G.

Well done Lauren your prize is in the post.
Well done everyone who entered, you all did very well. I will display all entries around the school to cheer people up. Thank you for taking part. Zoe.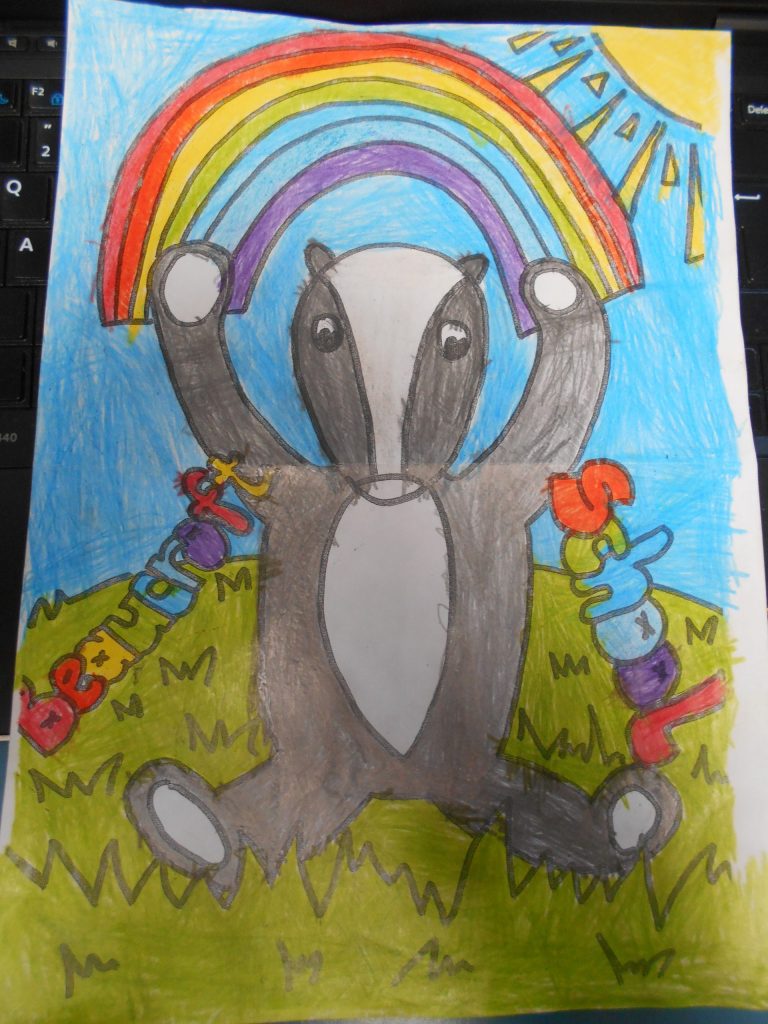 The winner of the colouring competition for the Senior school is Jasmine in Newton class.

Well done Jasmine your prize is in the post. Zoe.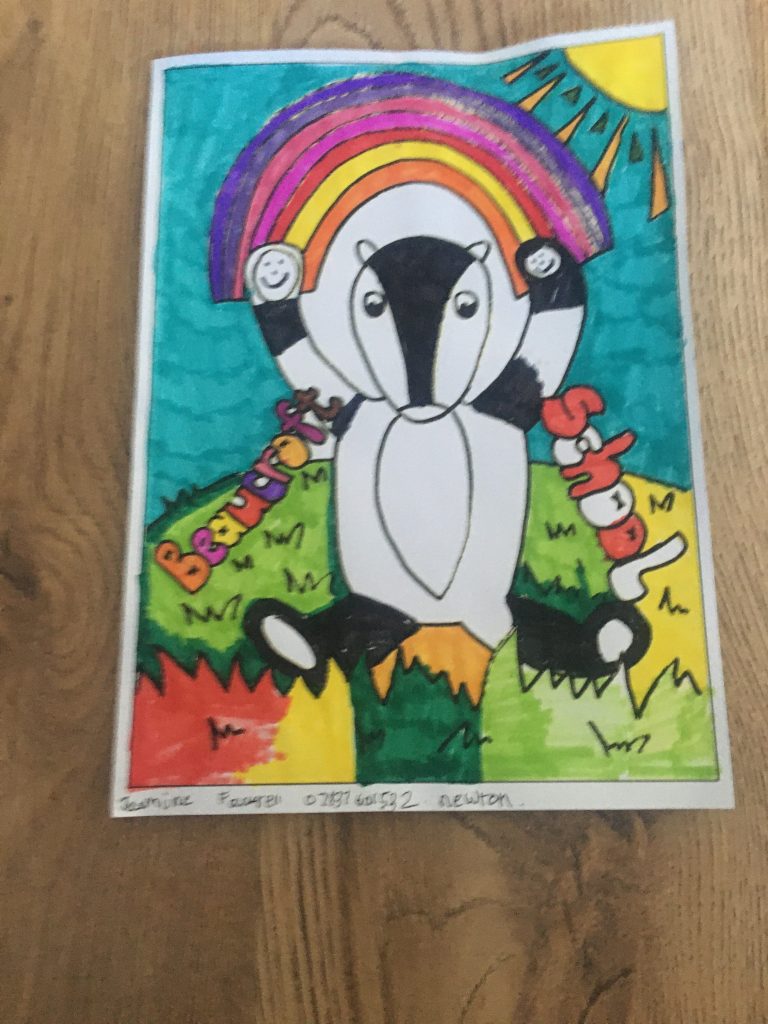 The winner of the colouring competition for the Middle school is Lyla in Portland class.

Well done Lyla your prize is in the post. Zoe.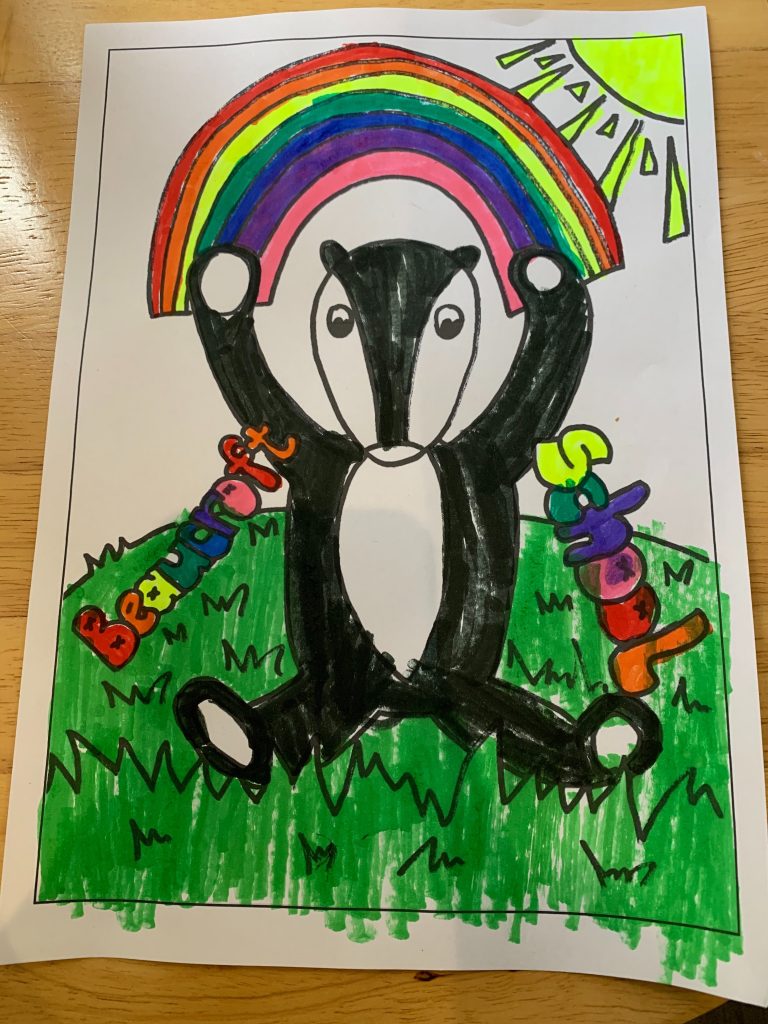 The winner of the colouring competition for the Early Year's is Elijah in Penguins class.
Well done Elijah your prize is in the post. Zoe.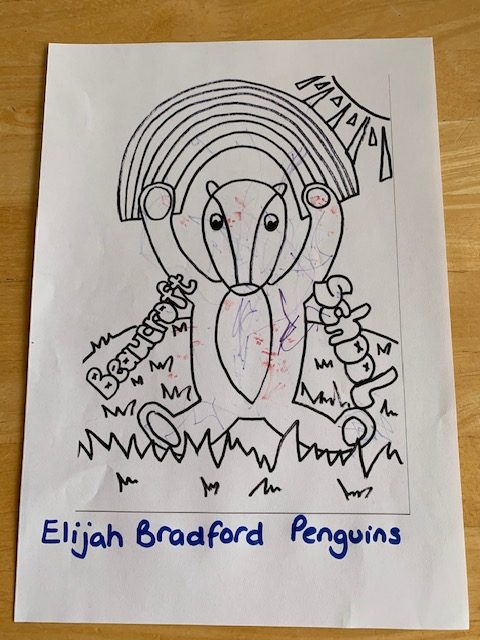 Alex has been cooking again – breakfast this time!!
Ellen has been practising her singing and performing skills at home
Mille has been baking bread, doing jigsaws, painting artwork to thank the NHS, celebrating birthdays, visiting the beach and relaxing in the hot tub!
Oliver took part in a water fight with his neighbours!!
Skye has been gardening, baking, creating artwork and exploring our beautiful local area 🙂
Here are some great entries from Kim's Week 5 artwork challenge – Cubism
Connor-pictures

Sophie has been practising her baking skills 🙂
Sam has been keeping herself very busy at home: she has been painting letters for dads birthday window, taking part in Zoom Shine 21 – Bingo, completing her school work, celebrating Eurovision, making slime and helping to produce a VE Day window!
Alfred's veg is growing nicely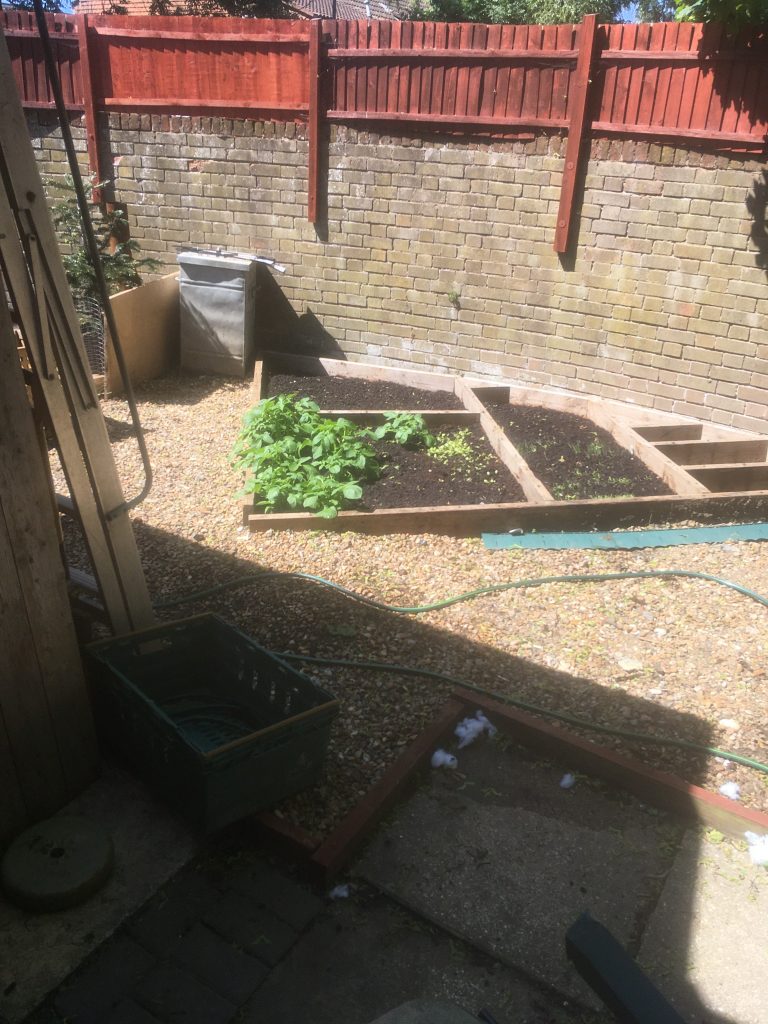 Lauren has been doing a fab job of practising her life skills at home 🙂
Here is Charlie's latest dance challenge – Blinding Light!!
Created by Charlie and The Dancers.
Here is a selection photos of the expressionist masks Lulworth class made today and some of the surrealist pictures they drew 🙂
Dan had baked himself a cake and cheese scones… next he's planning to make his dad's birthday cake!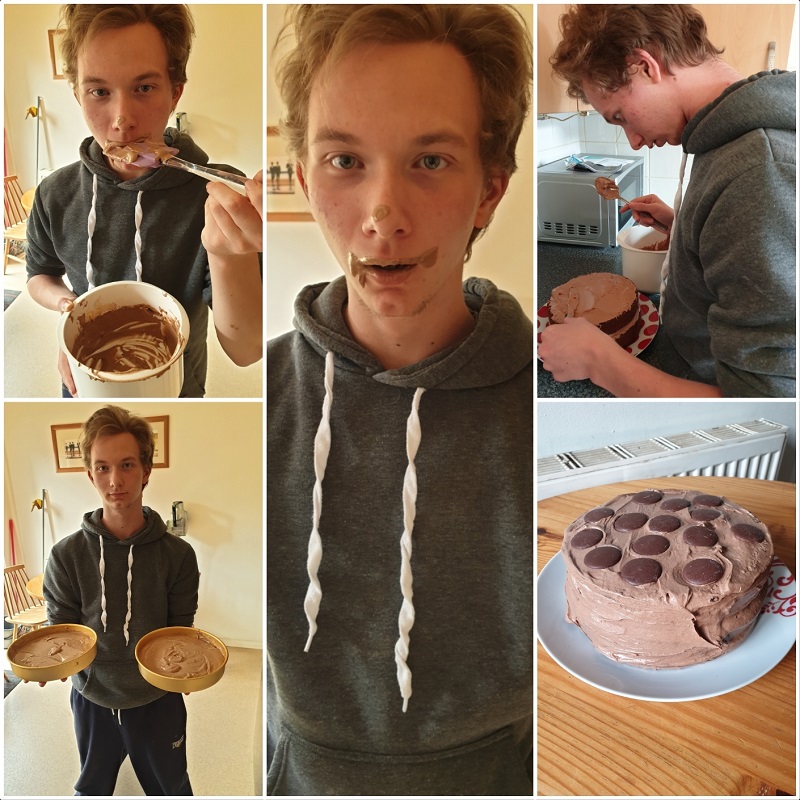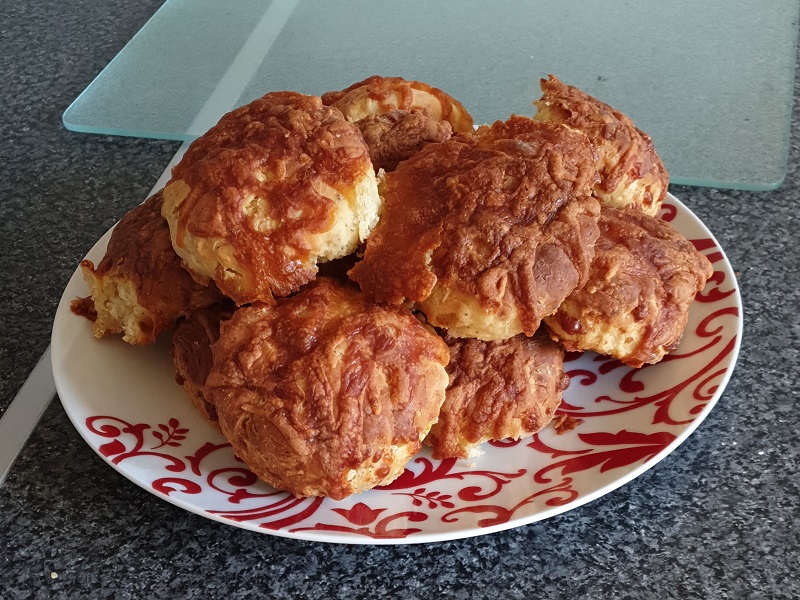 Pupils from Braille have been busy with their home learning projects and activities!
Alex has been making Rocky Road, yum yum 🙂
Olivia has been keeping herself very busy at home!
The chicken soup choir have compiled a song which Beaucroft school and a few staff members featured in. The song is called 'superheroes' and is encouraging people to reflect on who your superheroes are in your life and the people important to you #messagetomysuperhero.
As a mini challenge, it would be great if you could write your own message to your superhero letting them know how important they are, and then find the time frame in minute:seconds that Beaucroft school appeared in the video?
Anna has been working hard at home on her maths work 🙂
collage

Florence has been baking some delicious looking cakes, painting, cycling and has even created a family shop 🙂
Kim has a created a great scone recipe to go alongside the V E Day art challenge, set earlier in the week.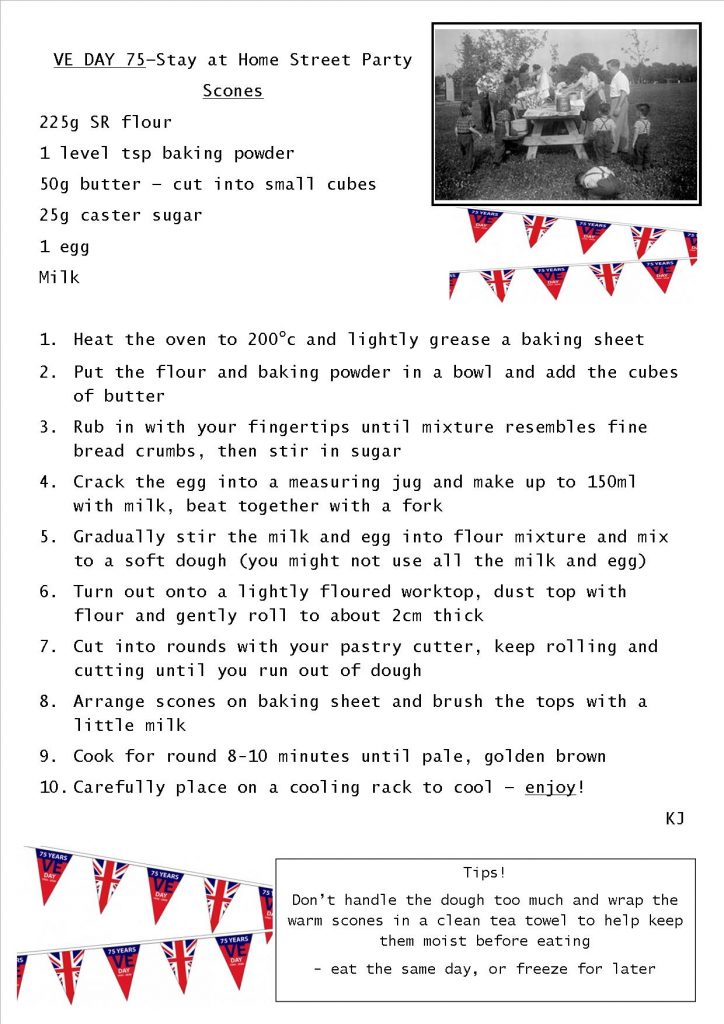 Ellen has been working hard at home!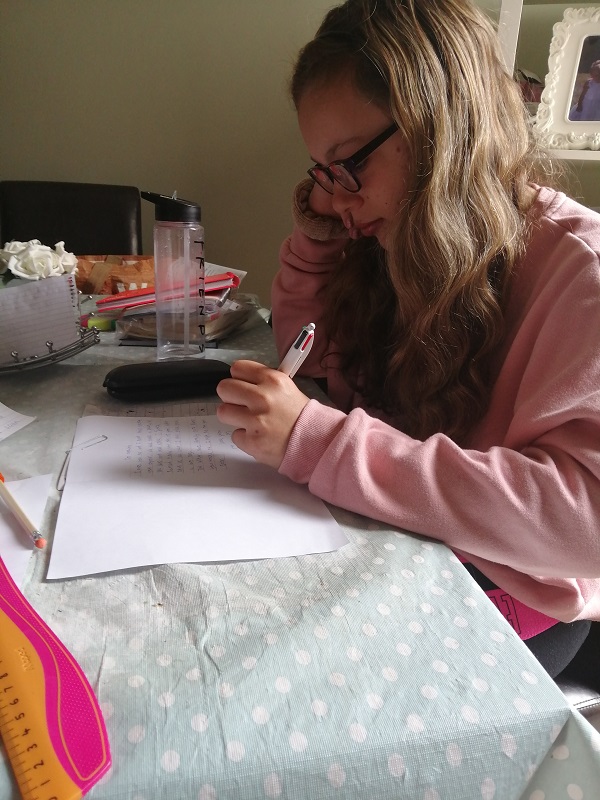 Here are some more entries to Kim's Week 1 artwork challenge. The artwork is by George, Dylan and Emily 🙂
Brunel class have been taking part in the "Great Brunel Bake Off"!!
These are Sophie's entries for Week 1 of the art competition. Good job Sophie 🙂
Samantha has been sending thank you cards to postal workers, working through PSHE home learning and has been making jelly, Yum Yum!!
John is enjoying his daily Joe Wicks sessions!!
Photo Challenge for May!
Zoe has organised a new Photo Challenge for all pupils to take part in.
The aim is to use a phone/ ipad/ camera etc to take one photo a day for a whole month, with a different theme per day.
At the end of the May, create a collage of your photos and send them to Zoe: z.newbery@beaucroft.dorset.sch.uk
The entries will be published on the school website.
Zoe will be setting topics that they can be done from home/ in their gardens/ on their daily exercise.
More details of the topics to follow….they will be added to the blog!
Good luck to everyone!!
Ellen has been busy making flapjacks and chocolate cakes!!!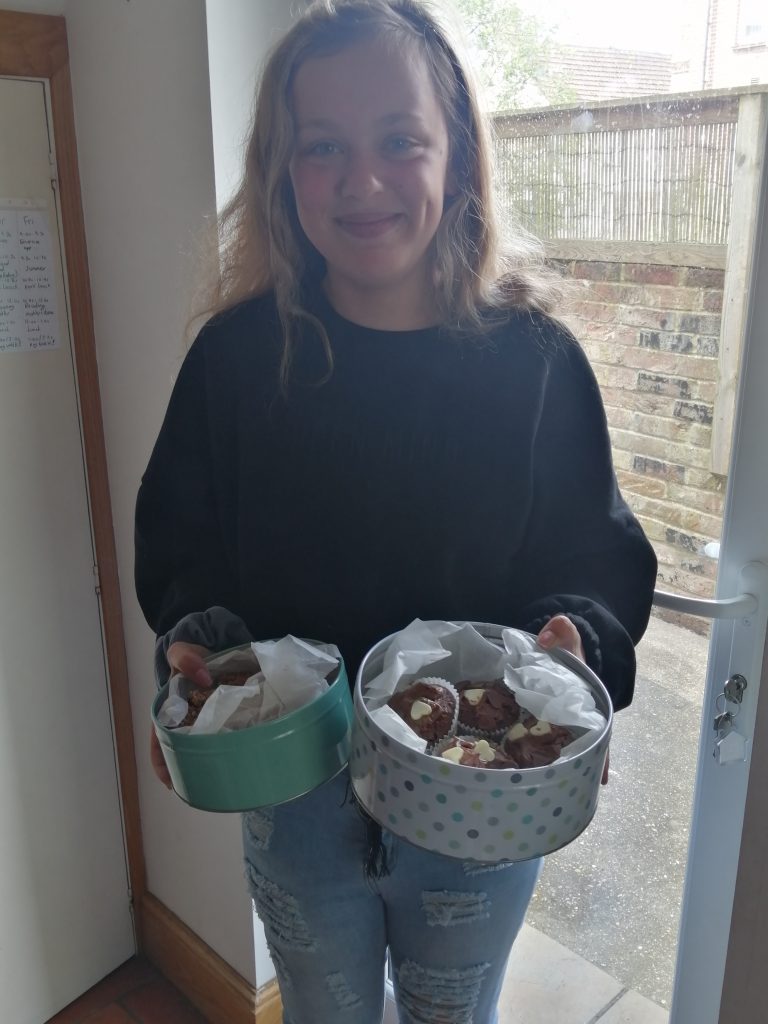 We're sure you're all missing Henry 🐶 so Charlie and Neil have created a video to show you what Henry has been up to over the past few days 🙂
The staff and students of Key workers' wanted to say Happy Birthday to Colonel Tom! Videoed and edited by our resident tech Charlie 🙂
Alfred's vegetable patch is showing its first signs of growth 🙂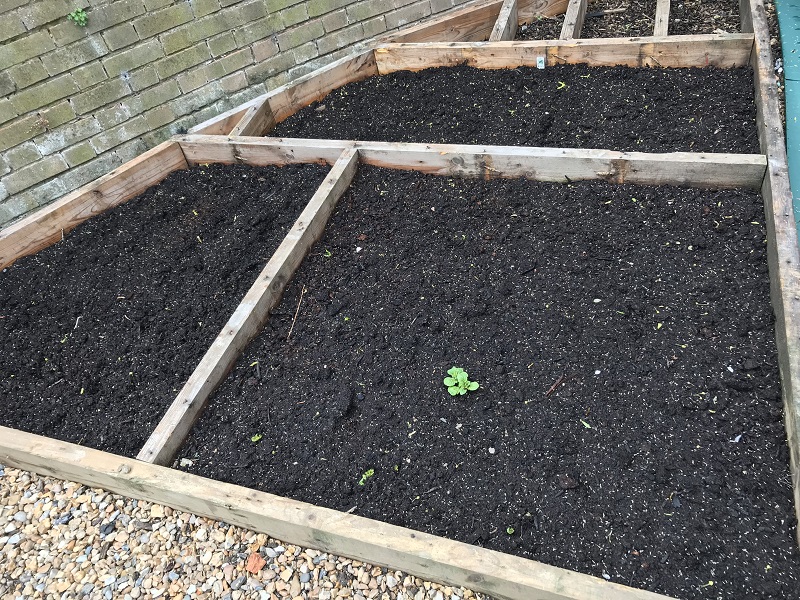 Emily has been practising her gardening skills and has created some fantastic artwork. Well done Emily 🙂
Sunny designed and built this fire pit with his Mum to toast his marshmallows on. Yum Yum!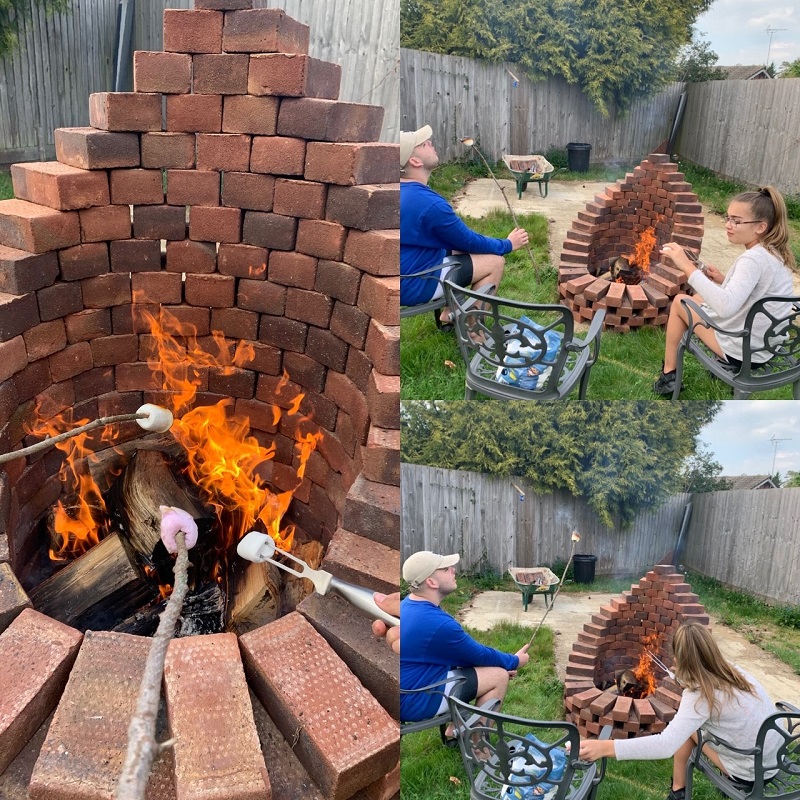 Pupils from Braille have been busy at home!
Alfie has been keeping himself busy with some fab art and design projects, as well as helping out with the household chores!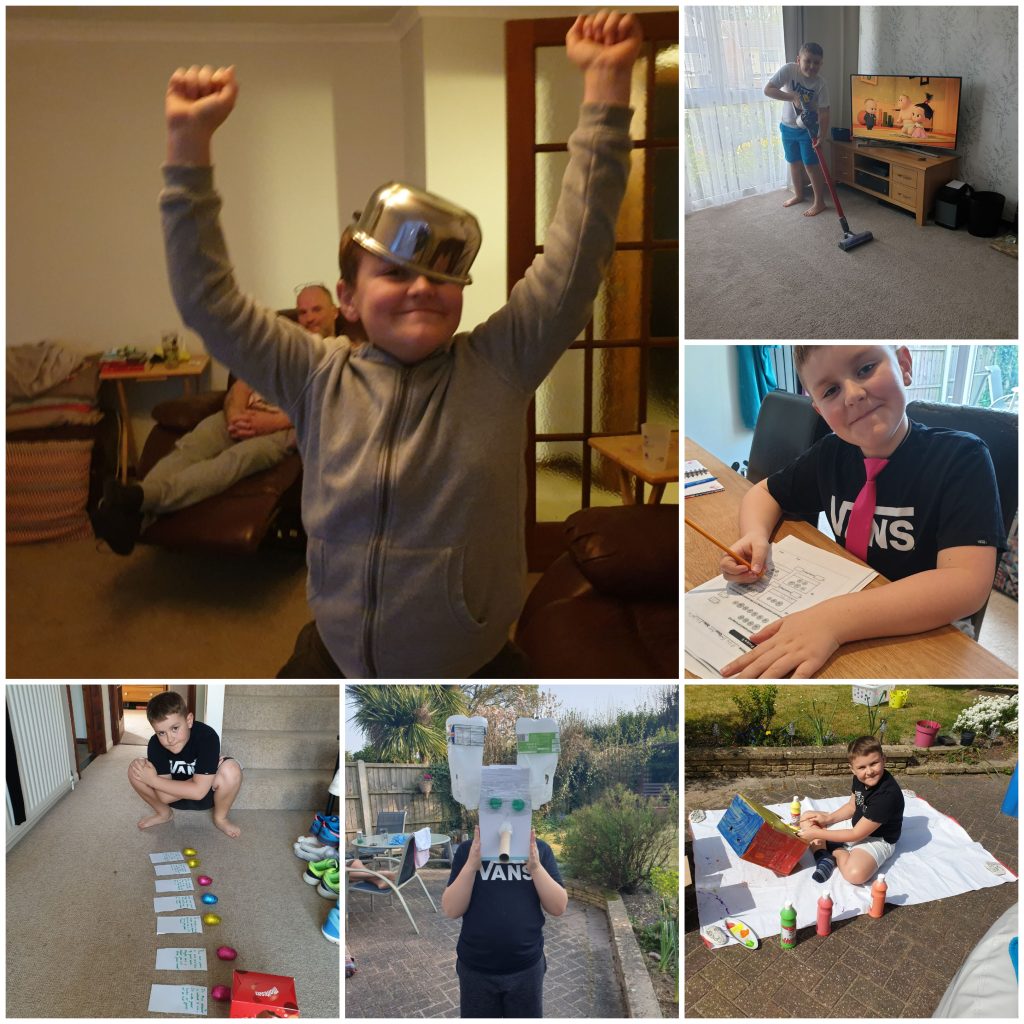 Alex has been learning to use a zebra crossing safely. Well done Alex 🙂
Jack made this for Fordingbridge Doctors Surgery, to hang outside in the car park. Jack loved adding the Star Wars and WWE characters to the bunting. Good job Jack!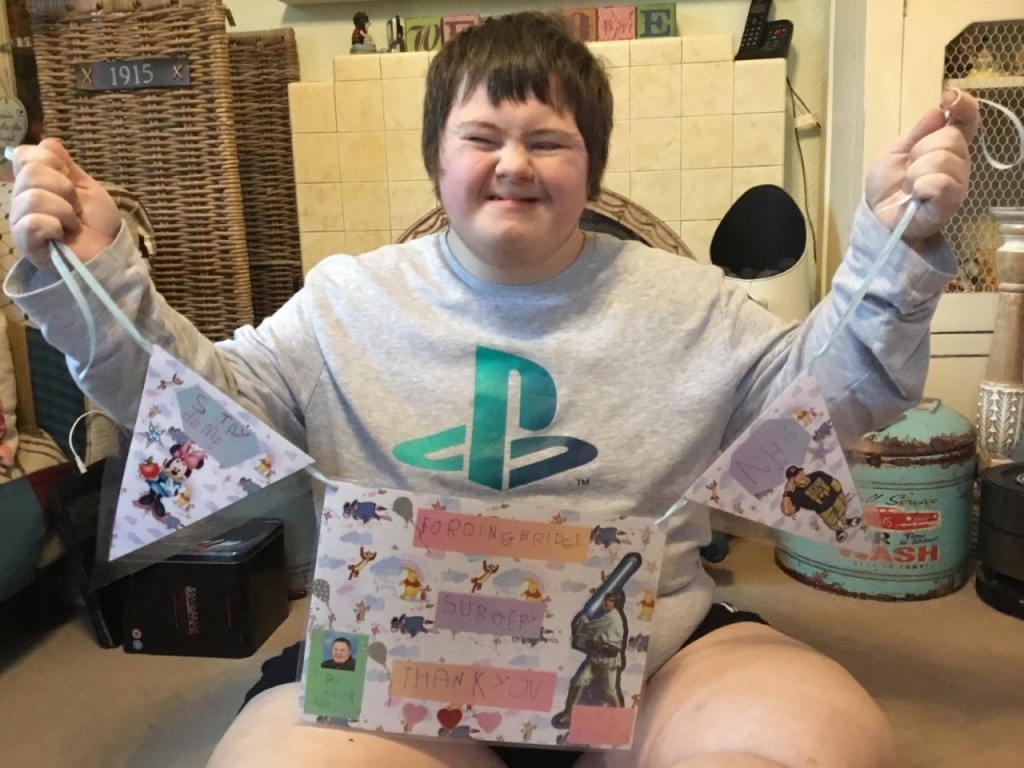 Jamie has been playing with his family's new kittens, learning some life skills and enjoying time in the garden!
Dan has been busy with a great art project, baking bread, flipping pancakes and practising his relaxation poses 🙂
Samantha has been practising her life skills at home!
Lyla has been very busy over the last few weeks. She has been baking, exercising, completing her maths home learning, making a Lava lamp and even decorating the house!! Lyla has created a beautiful salt dough rainbow, which she made all on her own 🙂
Colouring Competition For All Beaucroft Pupils 🙂
Zoe has been busy arranging a colouring competition for all Beaucroft pupils.
There will be a small prize for the winning entry in each area of the school (Early Years, Juniors, Middle, Seniors, Post 16).
Our Co-Headteachers, Joe and Di, will be judging the entries.
Winners will be announced Friday 29th May 2020.
The winning entries will be published on the website.
Seniors / Post 16 students can design their own poster, if they don't want to colour in the picture.
Please can entries be sent directly to z.newbery@beaucroft.dorset.sch.uk
Good luck to everyone!
Zoe
Oliver's Last Caterpillar Update
This morning, we released our butterflies, the final chapter of our butterfly journey. Oliver loved watching the butterflies enjoy their freedom.
Home Baking 🙂
Missing school and all my friends and teachers!
Tracey Robertson's Painting Skills in Action!
Tracey Robertson is doing some artwork at home, here is her painting. It's not finished yet but can you guess who it is going to be? It's someone in post-16.
Jasmine had a great time during the Easter Holidays!
Skye has been working hard at home 🙂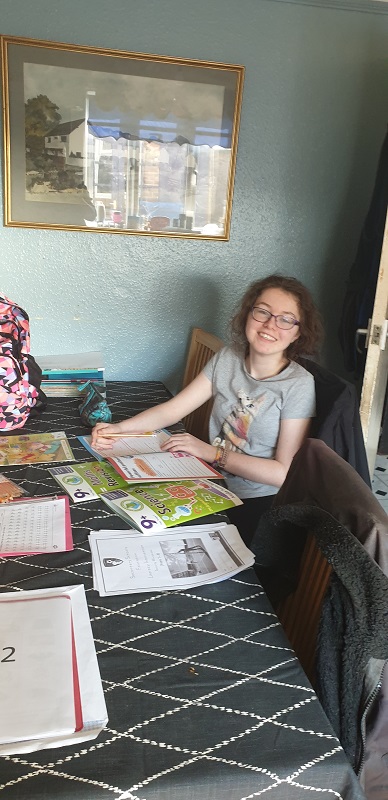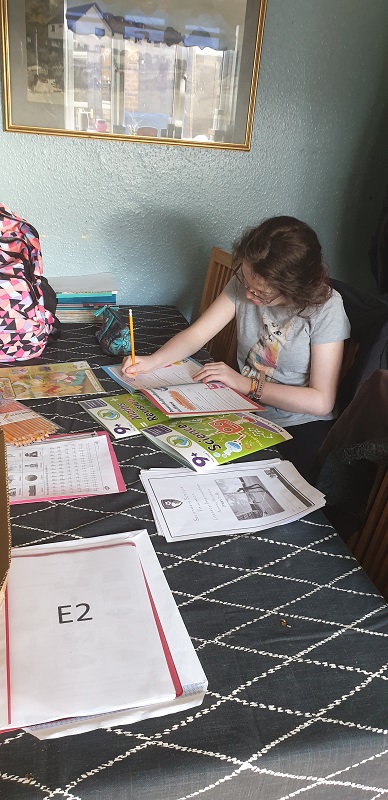 Millie has been learning to use bike gears!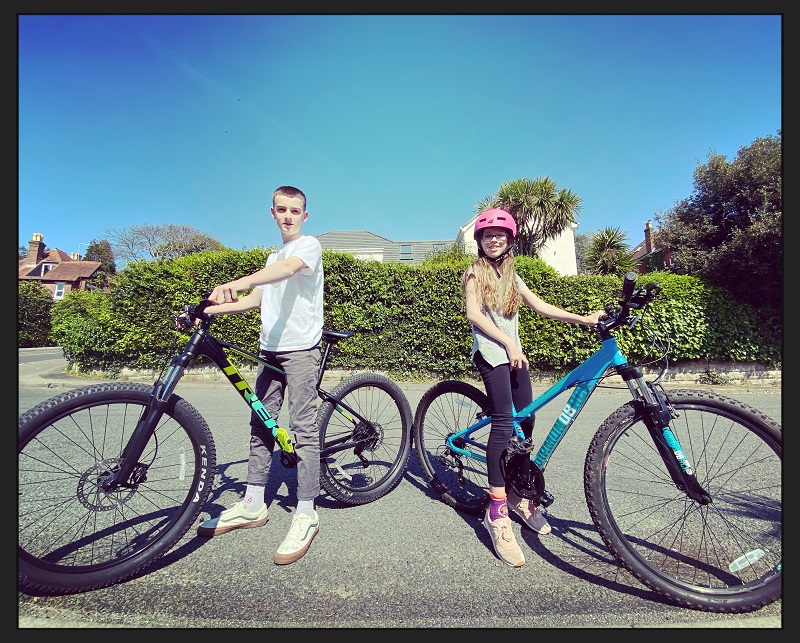 Wispa and Star helping with the rainbow!
Oliver's Latest Caterpillar Update
Our caterpillars have now emerged into painted lady butterflies!! We were lucky enough to watch our last butterfly emerging. It only took a few seconds, but was pretty amazing to see!!
We managed to get a few pics of this amazing event and we'll be releasing the butterflies in the next couple of days.
Perri's son Brandon has been busy exercising at home on their assault course!
Yesterday we wrote poems about our schools 🏫 here is mine, from Matilda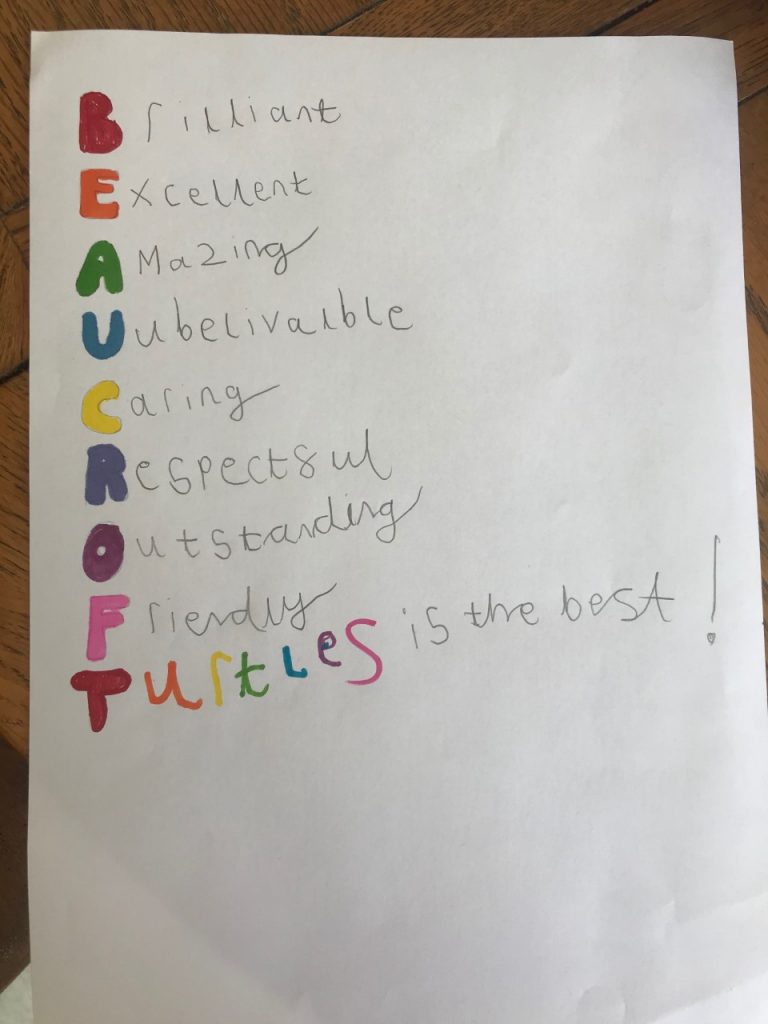 Haydn has been enjoying the sunshine 😊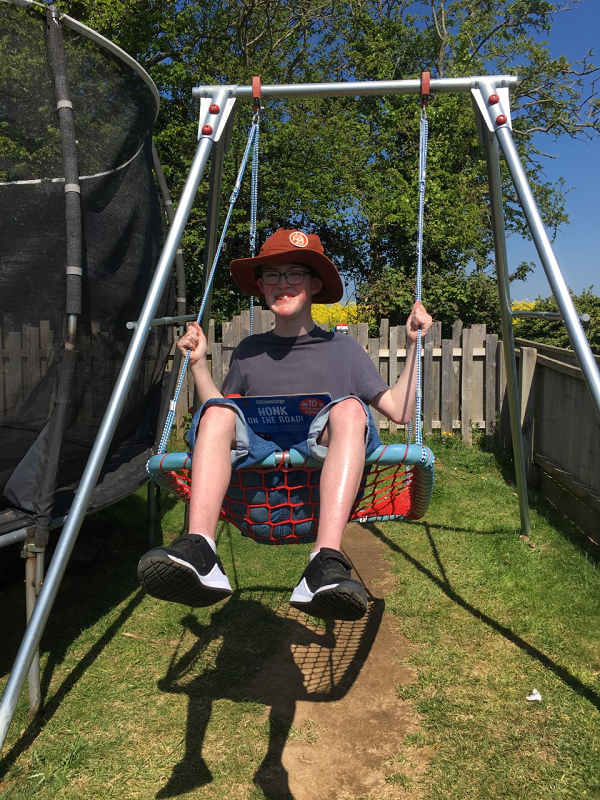 Martha has been down at the beach, enjoying the sun in her garden and has been busy with her Maths work!
Rolling across the sand dunes 🙂
Oliver has been doing some art and having camping adventures in the caravan in the drive 🙂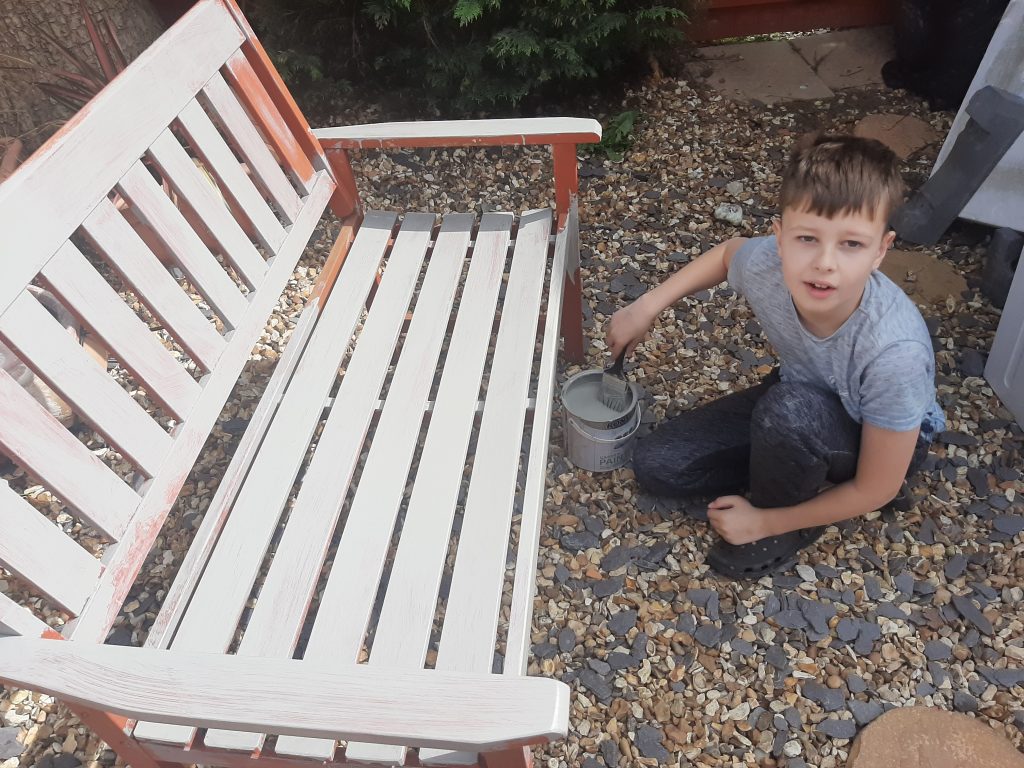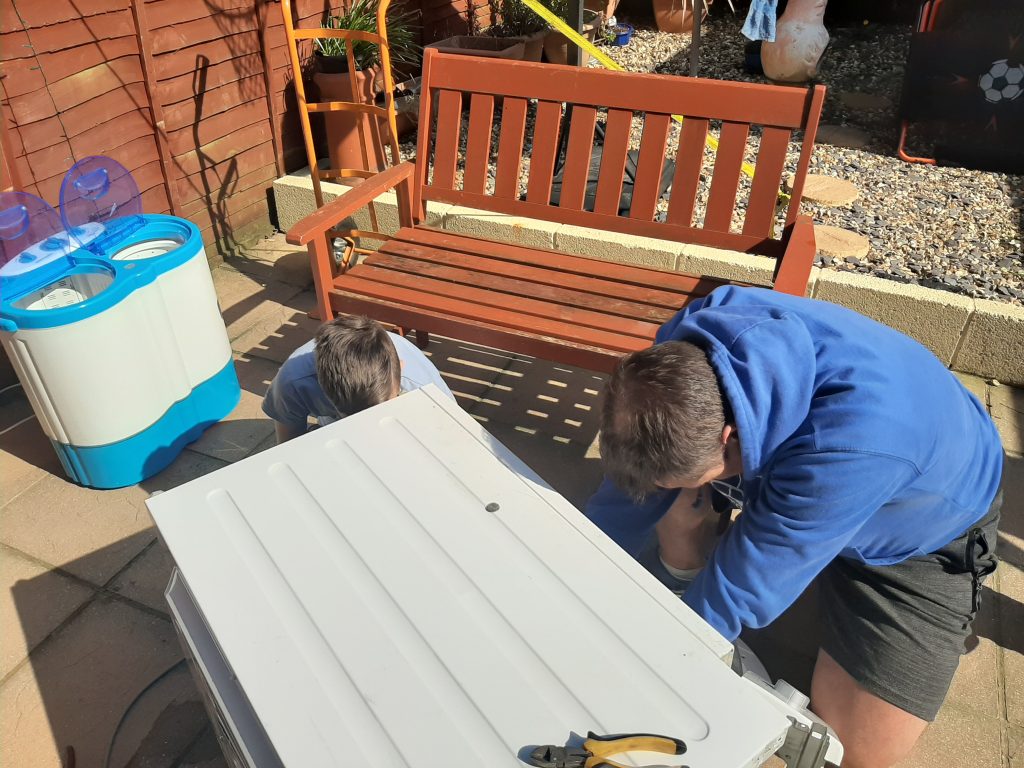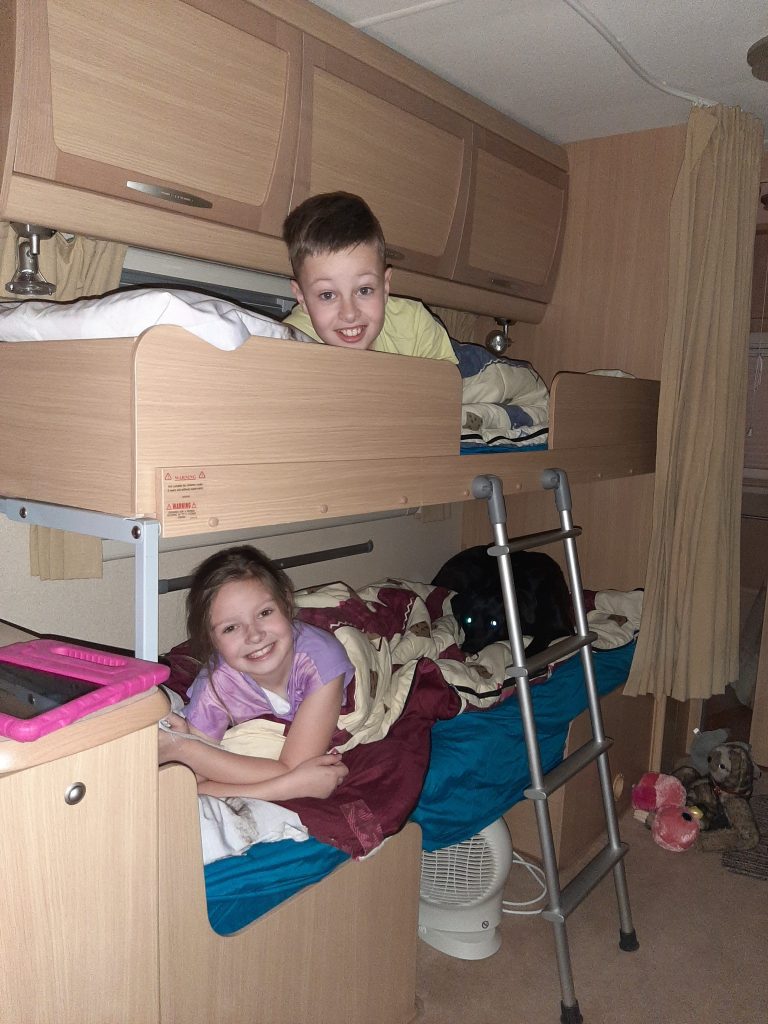 Dylan has been keeping himself very busy at home – great paintings!
Oliver's Caterpillar Update!
The caterpillars have now turned into a chrysalis and have been moved to their butterfly net, ready for when the butterflies emerge. This should hopefully be around 7-14 days time.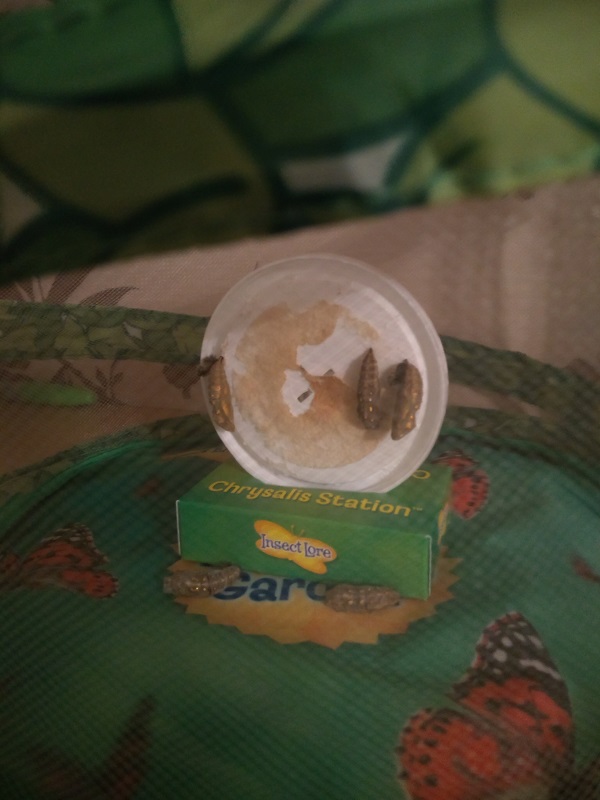 Jack has been practising his baking skills and has been helping with the household chores 🙂
A message from the Stingrays staff!!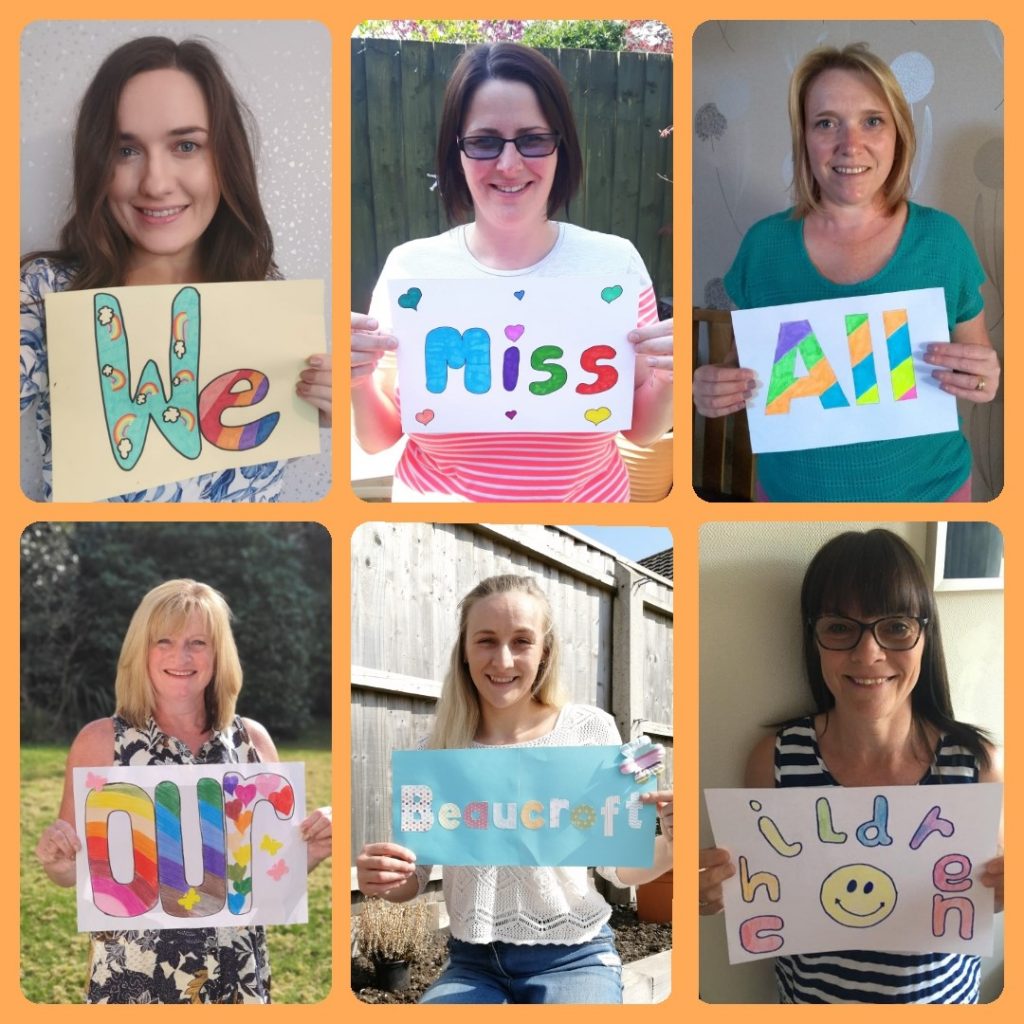 Matilda's Hot Cross Buns
Matilda has been busy making some delicious Hot Cross Buns!!
Oliver's Caterpillar Maths!
Oliver has been looking after some caterpillars with his family, and has been watching their development. They've had them a few days now and Oliver is measuring them each day, as part of his Maths learning at home!
If you'd like to look after some caterpillars and watch them grow, this website might be able to help: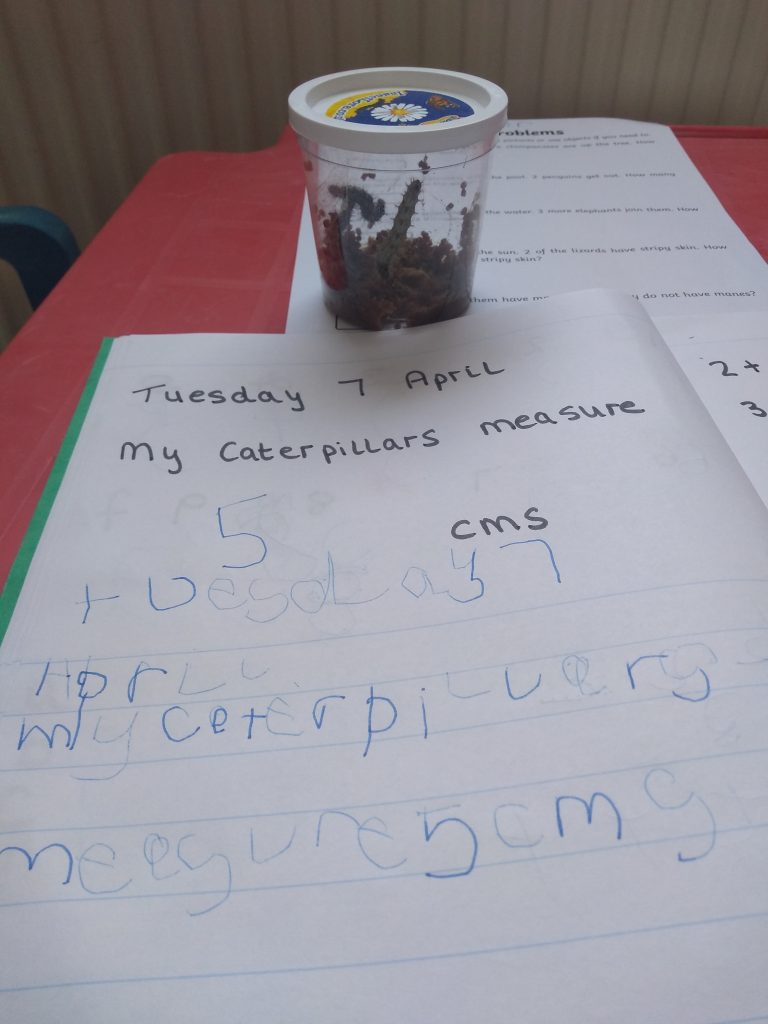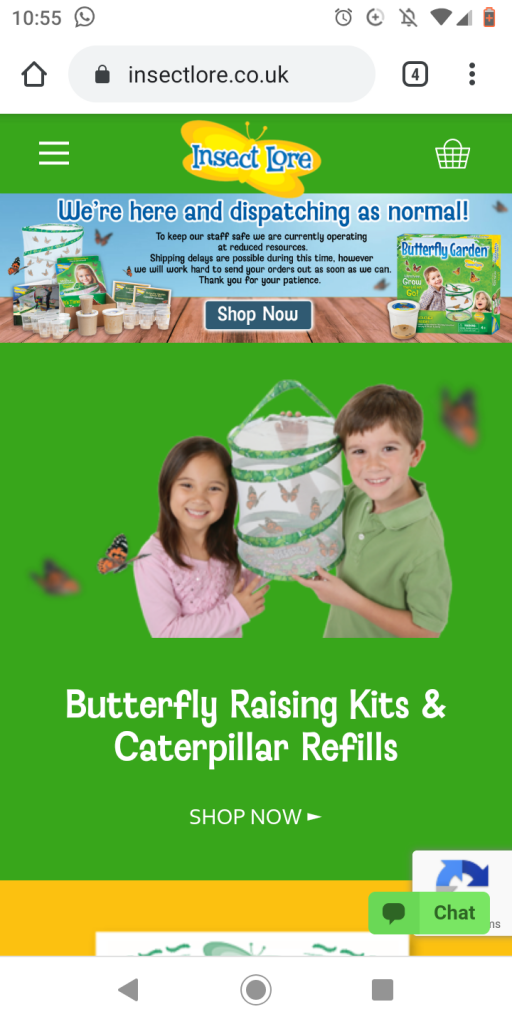 The Binks household stair dance challenge entry
Portland Class Stair Shuffle Challenge!
Can you do better over Easter?!
Created and edited by Charlie
Send in your videos to Mandy Guy so that we can see you've conquered the challenge Charlie has set!
Hold onto the handrail when you're practising!