Jaz has created another Communication Through Music activity you can try at home!
Literacy at Home
Paula Preece has created some fun Literacy activities you can try at home, using regular household items.
Letter-Sound Hunt
What can you find that begins with the sound p etc?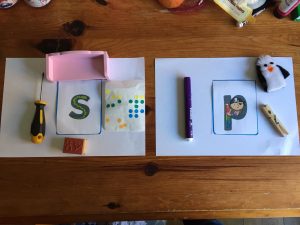 Phonics activities with Jaz
Using different sounds to communicate through music
Communication through Music
A small series of videos giving different examples as to how you can use music to enhance communication. Specifically, focusing on how the music makes you feel or move.
For example, in 'Shotgun' – there is a clear beat, so we are using drums and shakers to find the beat and practice clapping to try and find a rhythm.
In 'Let it Go', they are already familiar with the film so generally are copying moves from their own observations but you can explore this further to practice moving at different levels and speeds. Play songs and use different materials and instruments to explore!
ABC Treasure Hunt
Emma has created this ABC treasure hunt around her home…can you do better?!