Update 15/6/2020
Hi everyone!
Hope you are all well – it has been fantastic seeing so many of you on the weekly class Teams meetings!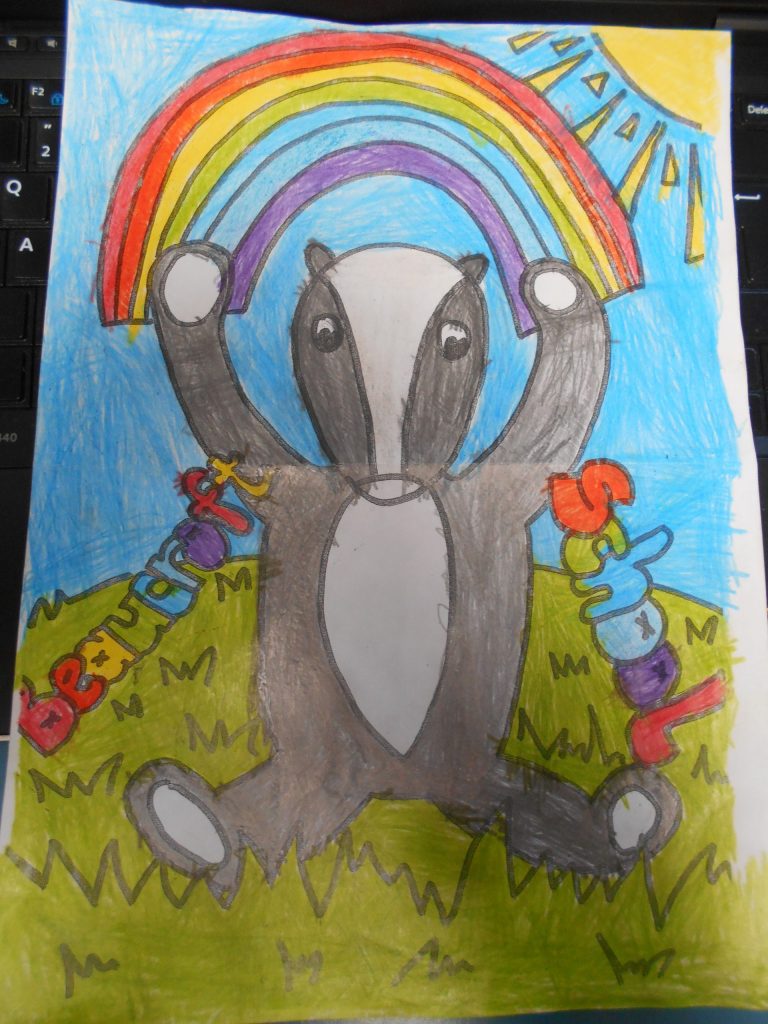 We are gradually and cautiously increasing our number on site in line with Local Authority risk assessments and guidelines. A recent TADSS (Teaching Alliance Dorset Special Schools) Teams meeting reassured us that our pace and management of reopening is appropriate and in line with other Dorset special schools, and reflecting the national u turn on all primary children returning before the summer holidays.
We have devised a final plan/rota for July that will be based on new September class bubbles. We will aim to accommodate as many children as we can who have accepted the offer of a place, whilst maintaining small, manageable groups in school (as previously, we will contact parents directly with details). To facilitate this, we are closing the school to children on Friday, June 26th, so we can deep clean and organise class moves.
We really do look forward to the day when we can welcome all our children back to Beaucroft.
 Until then, we promise that we are thinking of you all.
Take care,
Diane / Joe
Update 12/6/2020
The children's school reports will be emailed by Friday 19th June.
Update 3/6/2020
Hi everyone – hope you are all well and that you have enjoyed some family time in the sunshine.
As reported before half term, we have been working hard to complete Risk Assessments in anticipation of a gradual increase in number of children returning. This process has included altering the environment and routines to make it as safe as possible for children and staff. We are reviewing our capacity weekly to accommodate more children. This includes responding to Local Authority risk assessments and guidelines, and staff availability. As we will hopefully be contacting more parents, please consider the following factors before accepting a place:
Children returning are not in their usual teaching groups, classrooms or with their usual class team. This is because they are arranged in small "bubbles" to minimise interactions and movement around the school (This is in response to Department of Education guidelines).
Places are part time.
The curriculum is different. We have planned activities that all within the "bubble" can engage with.
No off site or mixed "bubble" activities.
Playtime is within allocated areas only, and within the "bubble".
No hot lunches, (except Fridays).
In short, Beaucroft school life will be very different to what pupils are accustomed to. Consequently, some parents will decide it is more appropriate for their children to stay at home, as the extent of change will be too challenging and continuing home routines through the summer would be more sensible. There will also be parents who have decided to keep their children at home for the foreseeable future due to the risks associated with a return to school. This is not an easy decision to make, especially at a time when we are all feeling unsure, vulnerable, and incredibly anxious about the safety of our children and our families during these unprecedented times. Please remember that if you have chosen, or choose, to keep your child at home, we completely understand and respect your decision.
Naturally, we are committed to providing a safe, fun experience for our children returning, maintaining a crucial link with our school and a sense of normality.
Please help us in our planning by completing the questionnaire indicating whether you will accept a place if offered. We cannot guarantee that all children will be offered a place before the end of term, but will endeavour to increase our number in line with national data and Local Authority advice.
The majority of our children are still at home, so we will endeavour to remain connected by continued weekly communication including offering an online Teams social meet up.
We miss you all – take care.
Diane / Joe
Update 21/5/2020
Hi everyone – hope you are all well and enjoying the sunshine.
Just a quick note to say we miss you all, and the place is not the same without you all. We have been busy making adjustments to the site to accommodate a slight increase in number from June 1st , (you will have been notified by now if you are due back). This is in response to Department of Education and Public Health advice and risk assessments.
From the first week back please look out for communication from class teachers regarding Teams (video) group sessions.
Hopefully, in time, we will be directed to open to more children. As mentioned previously, we remain relentlessly optimistic in our planning. We will be in touch with more families as soon as we are told it is safe to do so.
In the meantime – Happy half term everyone!
Update 14/5/2020 – Plans for After Half Term
Dear Parents / Carers,
We are writing to you following the announcements about children returning to school over the past few days. It is our intention to develop a plan which will allow us to potentially provide access to school for some pupils after half term.
Please be aware that one obstacle will be the number of staff we have available. We would like to make it clear that the decision to send your children to school, if offered a place, will be your choice. We have no intention of insisting that you do so, if you feel that it is in the best interests of your child to continue to keep them at home.
We want to reassure you that we will do whatever we can to keep the children and the staff as safe as possible. We have no doubt that this is going to result in some significant changes to how we do things in school. We also need to face some facts: social distancing will be a significant challenge despite the measures we take.
We are also in no doubt that we will have to work with you and the children to minimise the impact of these changes.
We will do everything in our capacity to provide a safe and happy learning environment for your children. We also want to make sure that they have a positive return to Beaucroft, whenever that might be. As you can imagine, there is a huge amount of work to be done in advance of the school reopening.
We will contact families directly regarding possible return dates. To identify returning groups and timescales we are following Department for Education advice:
Special settings should work with local authorities and families to ensure that decisions about attendance are informed by existing risk assessments for their children and young people, which should be kept up to date.

Department for Education
We anticipate a graduated reopening for an increasing number of children over time, on a part-time basis. This however, will be reviewed continually in line with national and local directives.
Apologies for not being able to offer anything more concrete at this time. In the meantime, please stay in touch with your class teams and visit the website Home Learning Hub to stay connected.
We honestly cannot thank you all enough for your support, patience and genuine affection over the past weeks.
We continue to miss you and remain relentlessly optimistic in our planning.
Diane / Joe
Please Note: Beaucroft will be closed during half term for all students.
Update 4/5/2020
We are writing again to update you on life in Beaucroft, as we enter the seventh week of school closure. As we write, various discussions are in the air, both at national and local level regarding the when and how of schools reopening. Clearly, we want our children back with us at the earliest opportunity, whilst being mindful of the wellbeing of both them and staff. There are various complexities in reopening, which is why there is likely to be a lead-in of several weeks for all schools, so that we can ensure that we have both staff, and student safety measures in place. We will update you as and when we have further information.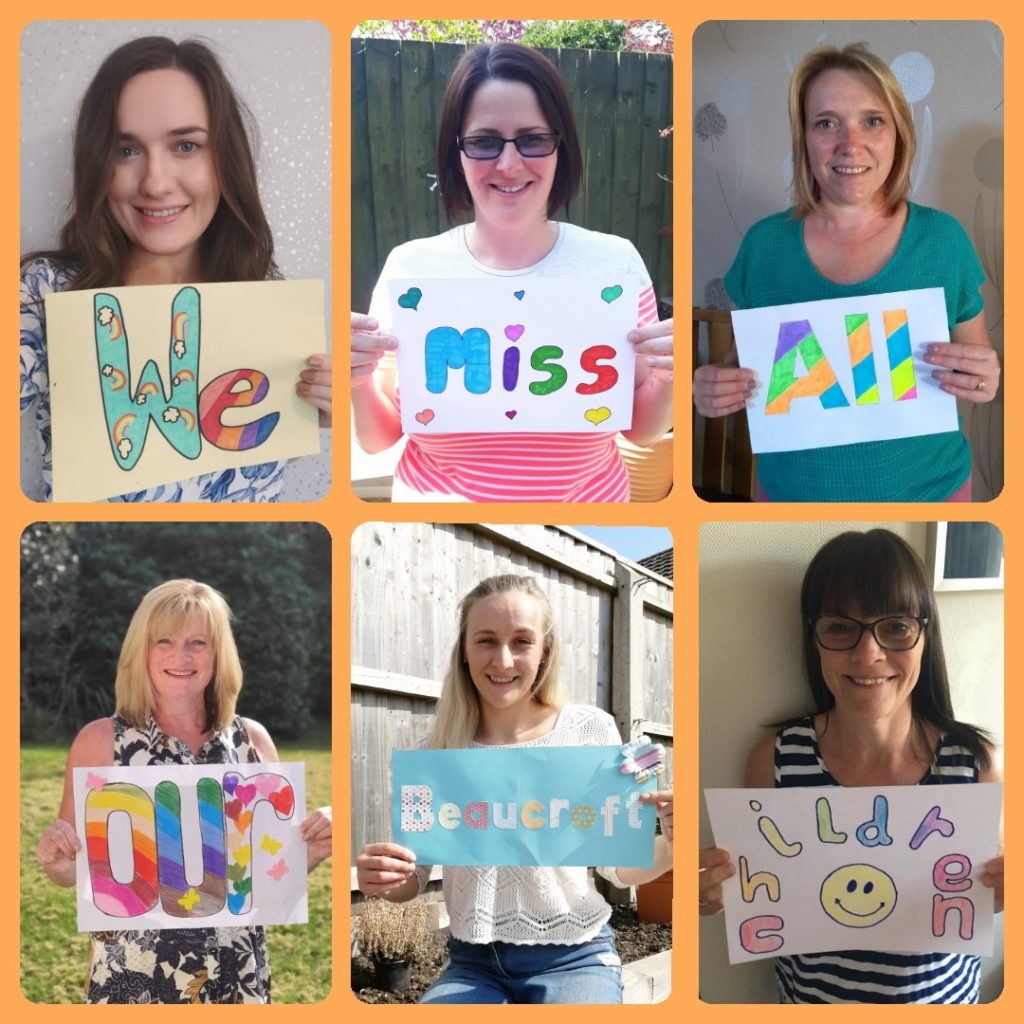 In the meantime, thank-you for the many messages of support we have received for the work we are doing. Staff in school continue to support a small number of children, and staff working from home are pro-active in contributing to the website's Home Learning Hub and corresponding with families regularly. We would like to pay tribute to our wonderful team of staff who moved so quickly and smoothly to a totally new way of working, with all of its attendant challenges.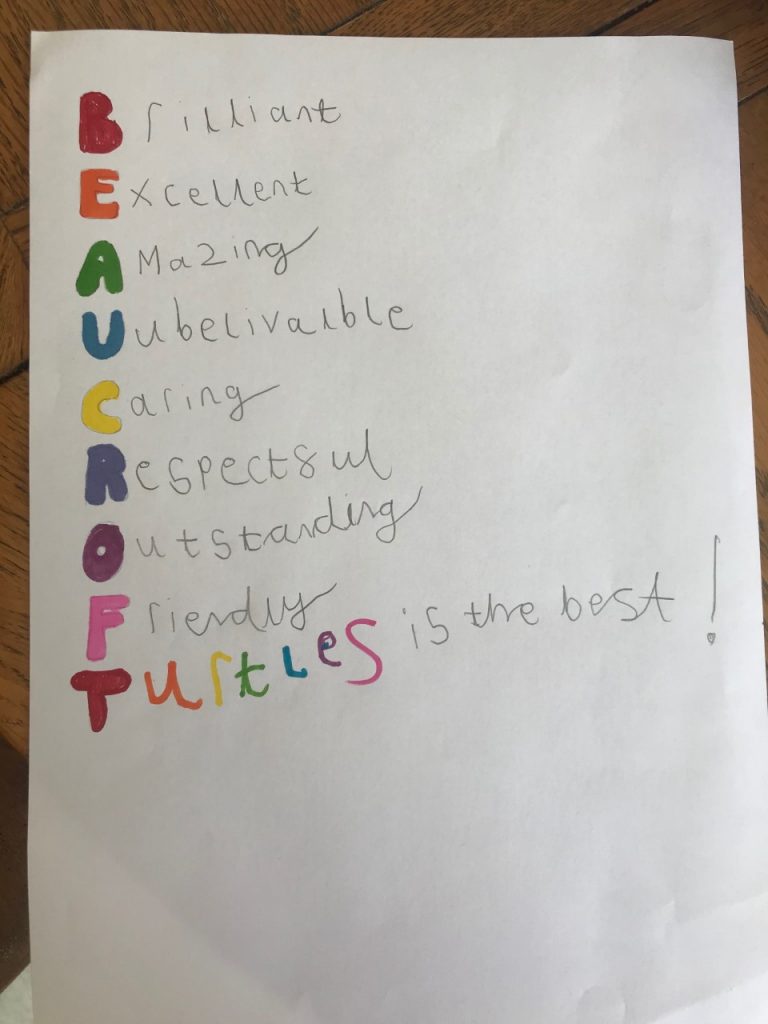 We would like to thank you, parents and carers, so much for all that you are doing during this challenging time. We love receiving correspondence, particularly the home learning photos. We hope that our regular updates are keeping the Beaucroft spirit alive for you. Whilst it is already somewhat of a cliché, we do feel that we are in this together, with you.
Please see Zoe's Photo Challenge in the Beaucroft Community section of the website and on our blog.
Miss you all and hope we have more information to share with soon.
Diane / Joe
New Coronavirus helpline for parents and carers
A new helpline has been launched to support parents and carers who are worried about how their child is coping during the Coronavirus pandemic. Dorset Council's Educational Psychology Service has set-up the helpline to support those who are worried about their child or teenager during the lockdown.
The helpline number is 01305 228300. It is open from Monday to Friday from 9am to 4.45pm. Callers need to ring and make an appointment for a 30-minute phone consultation.
Do contact Beaucroft if you require further support – Mandy, Catherine, Diane or Joe in the first instance.
Update 20/4/2020
Hi everyone – hope you all had a nice Easter. All very different to usual but I hope you are all well and enjoying the sunshine.
We hope you are finding the resources useful on the Home Learning Hub – some very creative and fun suggestions to pass the time.
We are continuing to support in any way we can so please continue to correspond with your class teams and our brilliant Parent Support workers Mandy and Catherine.
Person Centred Reviews and other essential meeting will continue this term albeit virtually.
We are already anticipating reopening and what that will look like, so please continue to check the website for updates. In the meantime, check out Charlie's toilet roll video produced entirely by him!
Stay safe,
Diane / Joe
Update 10/4/2020
Happy Easter everyone!
Hope you are all well; and if you have been unwell you are on the road to recovery.
During these very strange times we wanted to take this opportunity to check in and let you know that Beaucroft is looking brilliant in the sunshine and we can't wait to welcome everybody back when it is safe to do so.
New Pool Toys
Nigel has a new toy to keep the swimming pool amazingly clean – we'll turn the boiler on when we have a return date.
Rainbow Displays
A small group of children and staff have helped create a wonderful rainbow display in support of our incredible NHS and critical workers – thank you!
New Outdoor Learning Space
Diane and Joe, (with a little help!!) have constructed a brilliant outdoor classroom behind Shurtles so the whole school can engage in forest school activities.
Take care of one another as we continue to plan for the children's return – please check the website for vlogs and activities to support our families, and reopening details.
We miss you all!
Diane / Joe
---
Update 30/3/2020
Hi Beaucroft family!
A week has passed since the school closed. We are missing the children immensely and really do look forward to seeing them all soon.
Hope all is well at home and you are coping with an extra long Easter break. Remember to check in to the school website regularly and the Home Learning Hub. Phil, and many of the staff team are posting activities and vlogs to keep you entertained. Remember any life skill is a learning opportunity – making your bed or helping to prepare a snack. The Joe Wicks daily workout at 9am is a great way to start the day for the whole family and maintain some structure to the start of the days. Parents be warned – your thighs will burn!
Nigel and Steve have prepared the swimming pool and it looks amazing (photo to follow) and Henry , our school dog, is doing fine but also missing you all.
Hopefully you will have received correspondence from your class teacher and/or parent support (Mandy, Catherine). Please keep in touch via email and please request a telephone call if it would be helpful.
This is an incredibly stressful time for us all, which has been exacerbated by the uncertainty around time scale and our health. Also, we are in a situation that we simply have no control over. We are looking forward to the time we can return to what Beaucroft does best – having fun, with a bit of learning along the way!
Take care and we look forward to seeing you all soon.
Diane/Joe
---
Update 23/3/2020
Dear Beaucroft community,
These are worrying and anxious times for all of us. We wanted to take this opportunity to update you after rather an extraordinary week. You will understand that it is incredibly busy in school, indeed in all schools. As you know government guidance is constantly changing.
A large number of our staff are already off work due to illness or household isolation, or because they themselves are vulnerable or have a vulnerable dependent. This is a pandemic the likes of which we haven't seen in our lifetimes.
The overwhelming message to you is to keep your child at home if at all possible, to ensure they are safe and not at further risk of being exposed to the virus. You should do everything you can to make sure you and your child are not mixing socially due to the risk of spreading the virus. This is a critical situation.
As you are aware Beaucroft is remaining open for a very small number of pupils from today, Monday, who are our most vulnerable and whose parents are critical workers and need to be able to support the national effort. You will understand the importance of this.
Our staff, both the ones here in school and those at home, have been the most amazing team, showing positivity and resilience in the most difficult of circumstances. They really care about your children and are doing everything they can to make this bearable. We are so proud of them and we know that you are very grateful to them. Your children have also been amazing and we are proud of them too. We will continue to remain in contact whilst they are at home. In these dark times it's more important than ever to have some fun. One day we will be open again as usual, and we're really looking forward to welcoming you all back.
Diane Makariou / Joe Barnett
---
Please have a look at the video above, "A Day in the Life of Beaucroft" – it really was filmed in one day! It shows more in two minutes than a lot of words can say.
Beaucroft is a Foundation Special School that caters for children and young people between the ages of four and nineteen who are experiencing learning difficulties, including complex needs, and those with an Autistic Spectrum Disorder.
Beaucroft is a special place, where children feel valued and staff ensure that learning needs are met. In addition to the National Curriculum, it offers a personalised, innovative curriculum to meet particular learning needs, focused on practical, community based learning, creating a friendly, caring environment where children positively thrive.
'The quality of teaching, learning and assessment is consistently high. Staff know each pupil exceptionally well. This means staff plan activities which precisely meets the needs of pupils and which enable them to learn well and thrive. Activities planned excite, motivate and inspire pupils.' (OfSTED June 2018.)
We are both extremely proud of our school, having both worked here in different roles for many years, and are excited to be taking on the new challenge of becoming Co-Headteachers. As our recent OfSTED confirmed, we have an extremely skilled and experienced staff team who provide a safe, inspiring and fun place for all our students. Our curriculum provides the opportunities for academic and social development that will enhance the life opportunities for our students as they move into the adult world.
We hope that you enjoy visiting our site and that it provides you with the information or news that you require.
Joe Barnett and Diane Makariou